Kuma Forestry in Ehime Pref. talks about the Benefits of Digital Transformation in Forestry.
Monday, March 7, 2022 · 5 minutes to read
LOBSTA blog will be publishing a new series of interviews on "Forestry and DX" with various people from forestry.
---
150 years of history in Kuma Forest Co.
Thank you very much for taking this interview! First of all, could you give us a brief introduction to Kuma Forestry and tell us about the company's current situation?
Yes, Kuma Forestry Co. is a forest management company with a 150-year history in Kuma Kogen Town, Ehime Prefecture.  
Currently, our company owns about 320 hectares of forest, 90% of which is planted cedar and cypress, with a composition of 60% cedar and 40% cypress. At the moment, we are in the second generation thinning season and have already cut 3-4 cycles.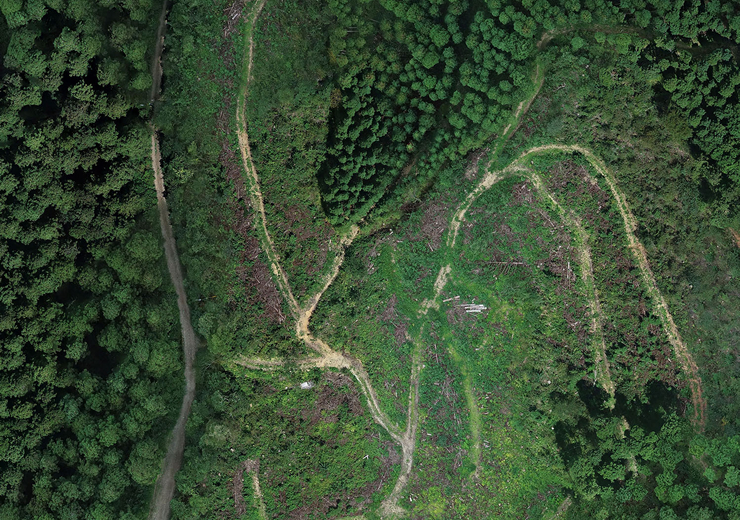 I used to do the logging myself, but now it's basically a management job and I'm doing it alone. It would be easier to understand if you think of it as a form of property management business.
The benefits of digital management and the five-year plan
150 years of history, wow! So, I can see that you have built your current management system through actual logging operations. How is the management done?
We have a five-year schedule and hire a logging company. We have 320 hectares of forest owned by us, so if we divide the forest into 30 hectares each year, it will take about 10 years to complete one cycle. We divide it into two equal parts and make a five-year plan.
I guess it's somewhat challenging for forest management companies to be able to plan five years ahead like that. In order to plan that far ahead, it is necessary to grasp the whole picture, literally "see the forest, not the trees". Isn't it? How does Kuma Forest organize information on its vast forests?
Ehime Prefecture provides maps as open data, so we use them in QGIS. We color the company-owned forest areas on the custom map and manage tasks in Excel. All the usual management is done on the computer, and when we hand it over to the contractor, we print it out on paper and hand it over.
In the case of forestry, delivery dates are unstable due to weather and other climate factors, so as a business owner, it is important to know how to stabilize the business.
In this sense, if we can communicate with our suppliers in real time, we can reduce the influence of weather conditions and respond flexibly.
In addition, we recently conducted 3D laser surveying, and we would like to be able to create 3D maps and give them to contractors as data.
We also want to make the map 3D so that we can give the data directly to the contractor.
Since the direction of tree cutting depends on the terrain, it will be much easier for the contractor to work if he can understand the terrain.
Smartphones in Logging Operations
I see! So that's the perspective you had in mind. I now understand the merits of 3D maps, and this is something we want to incorporate at LOBSTA. Actually, LOBSTA has a function that allows users to make notes on the map offline with a smartphone. Would it be convenient to exchange data digitally rather than on paper with the logging contractor?
Yes, it's important to be able to use a mobile device because many of the employees of the logging companies are young and are used to using smartphones. On the other hand, the younger generation often doesn't know how to use a computer, so I feel it is necessary to teach them how to use it in terms of platform management, and let them know how they can increase the revenue by optimizing the workflow digitally.
So, at the moment, I'm teaching my vendors to take photos and notes with their smartphones to get them in the habit of digital recording. After all, it's important for them to get used to it.
The contractors usually write their notes on a paper map and bring it to us, but in our case, we need to digitize it later anyway, so it's nice to be able to avoid that hassle. It will reduce our cost.
Look ahead - Forestry is changing
Kuma Forestry is a well-established forest management company with a history of 150 years since 1872, and I'm curious as to why they are so interested in digitalization. Why do you have such a positive attitude toward digitalization?
The forestry industry sounds very traditional, but actually it has been changing a lot more than one might think. When it comes to the management tool, it's been changing to Digital from analog solutions like paper.
Its purpose has been also changing to utilizing the entire forest from providing lumber as building material. In order to sustain healthy mountains for the next 100 to 200 years, I believe it is important to always look ahead.
So, the forestry industry always needs to think beyond that. I feel that more and more forestry companies are becoming aware of this problem.
At Kuma Forestry, we are currently working on the Golden Forest Project , an attempt to create new value by using the space of the forest. This is because we feel that it is very important and essential to shape the future of the forestry industry to create new possibilities that are not bound by the traditional forms of forestry by making it more open as a "space".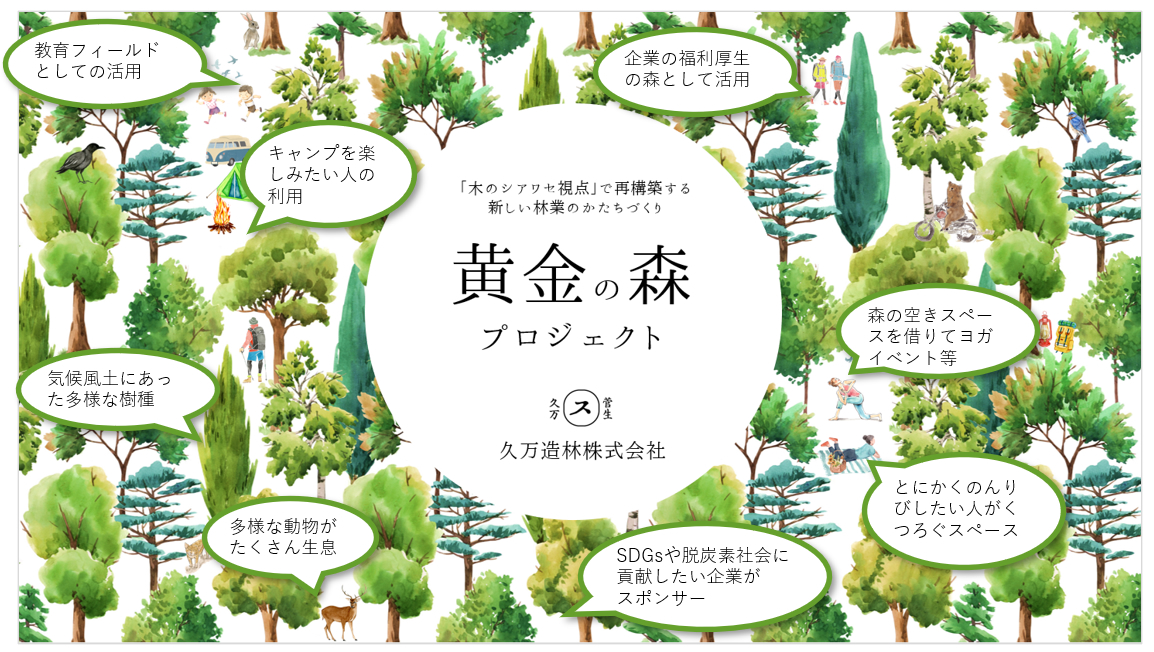 In addition, we running a cafe and developing a product brand using tree bark called Motomoto Kuma .
Kuma Forestry is making many wonderful attempts to create new value in the forestry industry.
Curious about the cutting edge Forestry company in the sunny southern part of Japan, Ehime? Check out how Kuma Forestry continues to take on the challenge of advanced initiatives with an eye on the next generation!