CivicTech applications
Citizens can use the app to easily communicate their problems and observations in the city to the municipality, and the municipality can respond to the reports, bringing citizens and the municipality closer together.
Support for citizen engagement
If the relationship between the local government as a provider of public services and the citizens as the beneficiaries of those services continues to be binary, the beneficiaries may soon take this for granted and the services may become too costly. It is important that citizens and the government think together about how to allocate the limited financial resources and what kind of services to provide, and what kind of issues to solve in the city. CivicTech creates an opportunity for citizens to participate in the city by discovering and reporting issues in their daily lives.
Promoting collaboration
Once an issue has been identified and reported, it is essential that it is looked at and addressed. Some issues are handled immediately, some take a longer time. It can be expensive to clean up rubbish, remove graffiti or repair a bench. The question arises as to whether it is a good idea to keep on doing these things. If the citizens and the government have a chance to discuss together, many ideas will arise. Why is the rubbish thrown away there? Isn't there a case that the citizen can pick up voluntarily? And so on. A little bit of time and a little bit of initiative can help the society, for example, if the city can save money, the money can be used for some other kind of activity. Collaboration is a win-win situation for both citizens and government.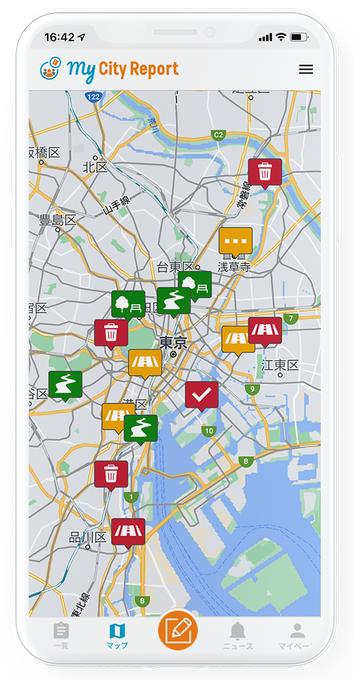 Optimising operational workflows
To ensure that reported issues are addressed properly, workflows need to be adapted to meet the needs of the organisation, and LOBSTA offers the flexibility to set up all kinds of workflows.
Transparency through visibility
LOBSTA provides an easy-to-use, geospatial and interactive way of reporting and responding to issues. As the status of a municipality's response is made public, it is necessary to provide plausible explanations. On the other hand, citizens are less likely to make inappropriate requests because their reports are open to the public.
Georepublic Japan, the company behind LOBSTA, also runs a civictech application called My City Report . It is aimed at local municipal governments, however, if you are interested in using the same functionality in your organisation, please contact us at contact form or [email protected] .
---
See our other case studies