Maybe Santa Claus is seriously needing Digital Transformation in his workflow.
Tuesday, December 21, 2021 · 5 minutes to read
Have you ever wondered how hard it is for Santa Claus to deliver thousands of gifts all by himself? Here is our suggestion how to optimize his workflow, and maybe we can help!
---
Christmas is coming, and there will be a busiest man in the world on the night of 25th December. - Santa Claus. Delivery market has been significantly growing fostered by Covid-19, and so does logistic technology. Today we have thousands of daily "Santa Clauses" graciously deliver anything we want, and they utilize cutting edge route optimization tools for the best result.
But, what about Santa Claus? We thought maybe he is the one who is seriously eager to achieve digital transformation to optimize his work, because his workflow is tremendously paper-based!
Santa Claus's work by definition
Step 1: Receiving orders
To start with, we defined Santa's workflow from receiving the "orders" from kids to deliver. The way he gets order is by letter from children all over the world.
Santa Claus and his wife, Mrs. Claus, call the North Pole home, and children write letters to Santa  and track Santa's progress around the world  on Christmas Eve. Children often leave cookies and milk for Santa  and carrots for his reindeer on Christmas Eve.
Santa Claus's work is constantly tracked by children hungry for presents, so we can see "transparency" is an essential factor in his workflow.
Santa Claus keeps a "naughty list" and a "nice list" to determine who deserves gifts on Christmas morning, and parents often invoke these lists as a way to ensure their children are on their best behavior. The lists are immortalized in the 1934 Christmas song "Santa Claus is coming to Town":

"He's making a list
And checking it twice;
Gonna find out Who's naughty and nice
Santa Claus is coming to town

He sees you when you're sleeping
He knows when you're awake
He knows if you've been bad or good
So be good for goodness sake"
(History.com)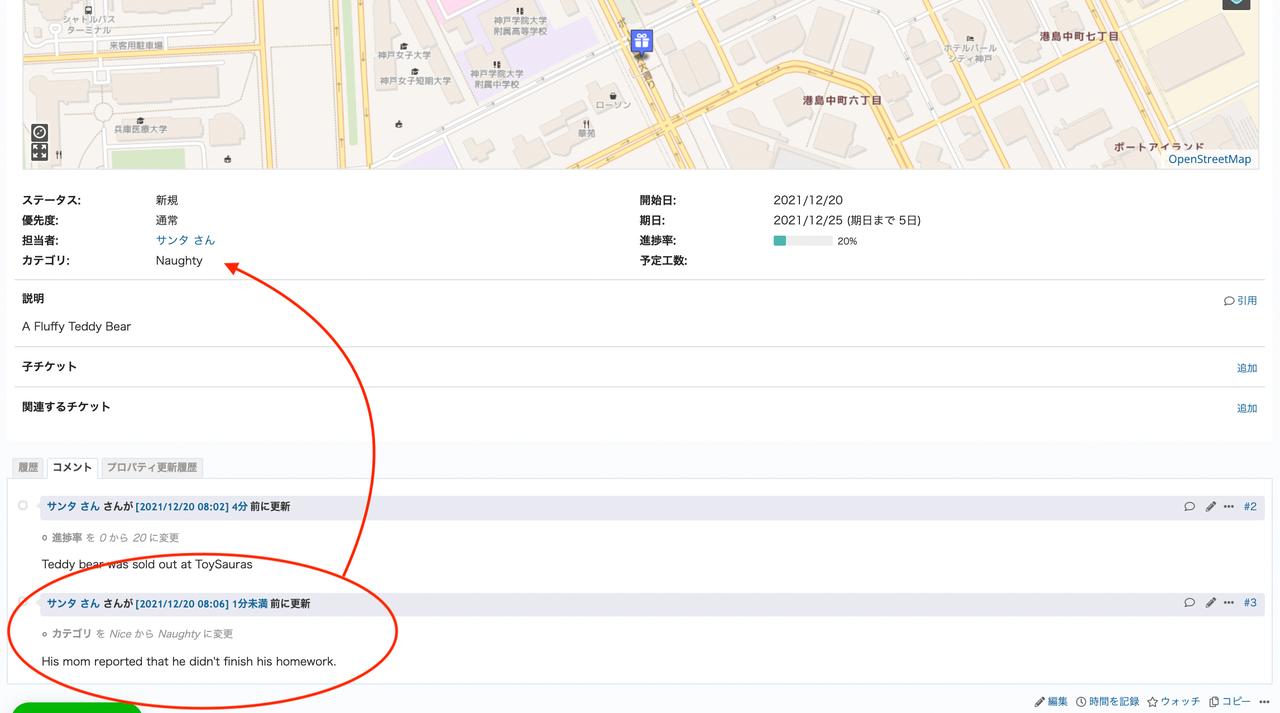 With LOBSTA, it's easy to change the issue's category and status, and the log is traceable. For example, he can change the kid's category from "Nice" to "Naughty" depending on the kid's behavior. The latest category status is shown in the upper section of the issue so that he doesn't have to check the list twice anymore.
Step 2: Order confirmation
As is the song says, he needs to check the list twice, and categorize kids into Naughty and Nice. Probably he has some issues deciding who is the nice kid and who is not. Even when the kid's behaviour wasn't preferable, parents often nudge kids to behave better for the presents, and the label can change spontaneously. If he can easily change the label/status depending on the child's behavior, he would benefit from the convenience.
Step 3: Route Optimization
According to NORAD, his delivery route usually starts at the International Date Line in the Pacific Ocean and travels west.
So, historically, Santa visits the South Pacific first, then New Zealand and Australia. After that, he shoots up to Japan, over to Asia, across to Africa, then onto Western Europe, Canada, the United States, Mexico and Central and South America. But keep in mind, Santa's route can be affected by weather, so it's really unpredictable. (NORAD fandom )
One of the things he would require in the management system would be "flexibility". Due to the weather, he might need to adjust the delivery route, and optimize it again and again. If you imagine to do it on paper, it's a nightmare. With LOBSTA, making changes is very easy, and sorting the issues out is also very easy with the query function.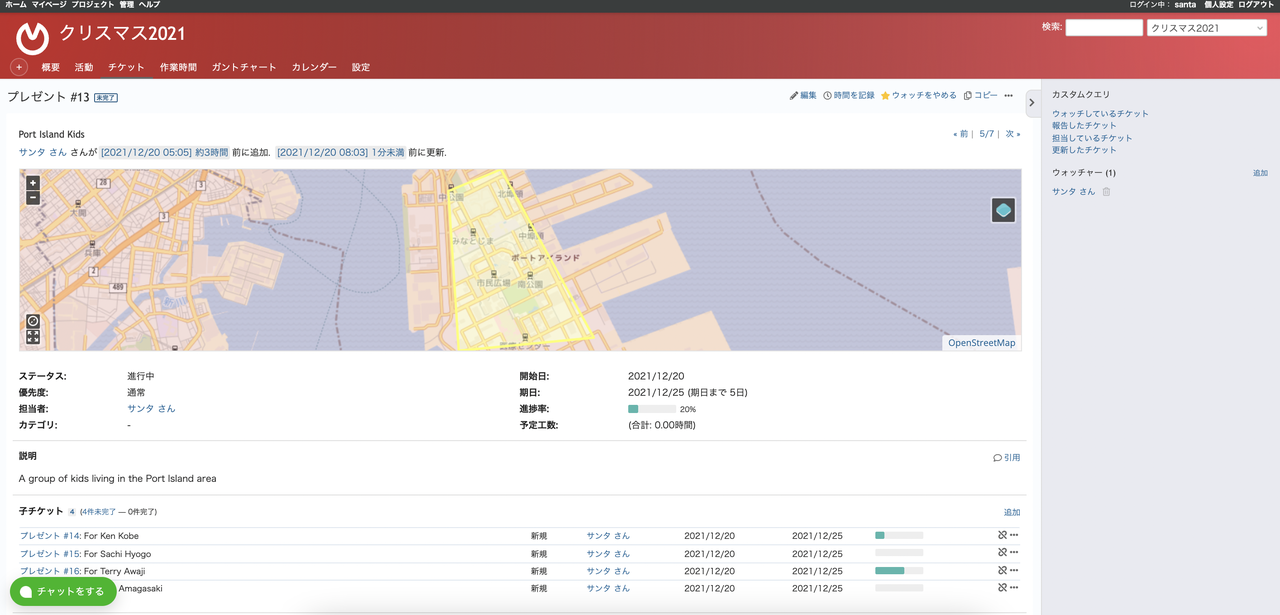 One of the very useful features of LOBSTA is creating the project by area. By choosing the area with polygon, you can specify the project area and create the related issues within it. With Santa Claus's case, he can specify the delivery area when there are several orders within the area, and create the issues to optimize the work. By registering "child issues" in one issue, it helps to organize the project.
Step 4: Delivery
After confirming the list and gifts, it's time to deliver. In this process, he needs to have a printed list of children. You might think "Paper? Why doesn't he use an App?", but we found out that he has a legitimate reason why he can't use digital solutions here.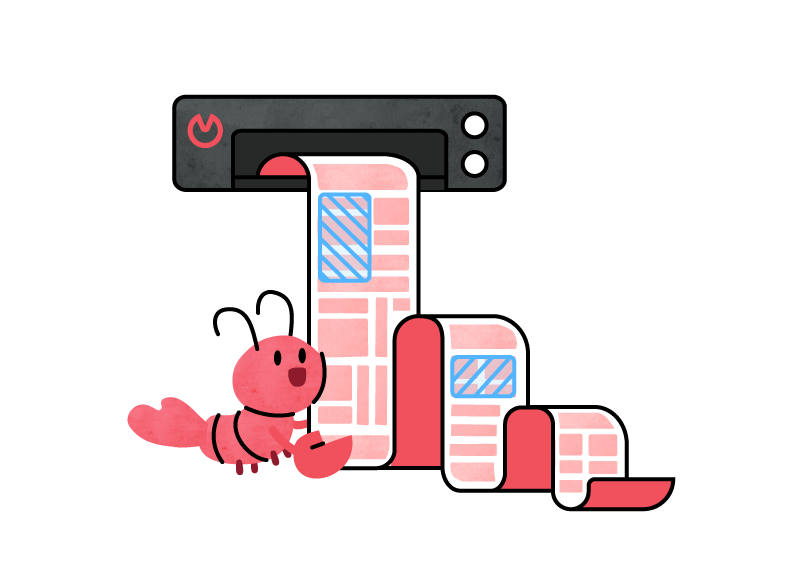 Delivery time and no internet connection issue
Santa Claus is said to travel 510,000,000km route on Christmas Eve, and deliver billions of gifts all around the world. How is it possible? According to NORAD, Santa Claus travels through different time-space continuum, and this probably means he will have no internet connection and no charging point for the device while on delivery.
His trip seems to take 24 hours to us, but to Santa it might last days, weeks or even months. Santa would not want to rush the important job of delivering presents to children and spreading joy to everyone, so the only logical conclusion is that Santa somehow functions within his own time-space continuum.
The print out function is necessary for Santa Claus's delivery workflow, and he can make it with LOBSTA's interoperability of exporting data into a variety of format.
Are you a Santa interested in using LOBSTA?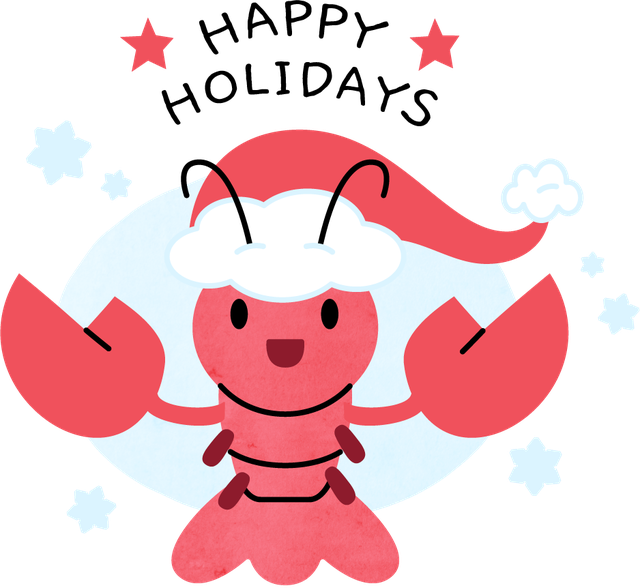 If you are the Santa Claus reading this article or interested in helping him out by suggesting the optimization ideas, please contact us what you thought! Also, we are in closed beta version, and available for free demo. If you thought this could be a good solution for your business even if you're not in Santa Claus business, you can still use LOBSTA! Please sign up for the demo or subscribe to our newsletter for more updates.
We wish you a Happy Christmas and Happy New Year!